'Sew' pleased to meet you!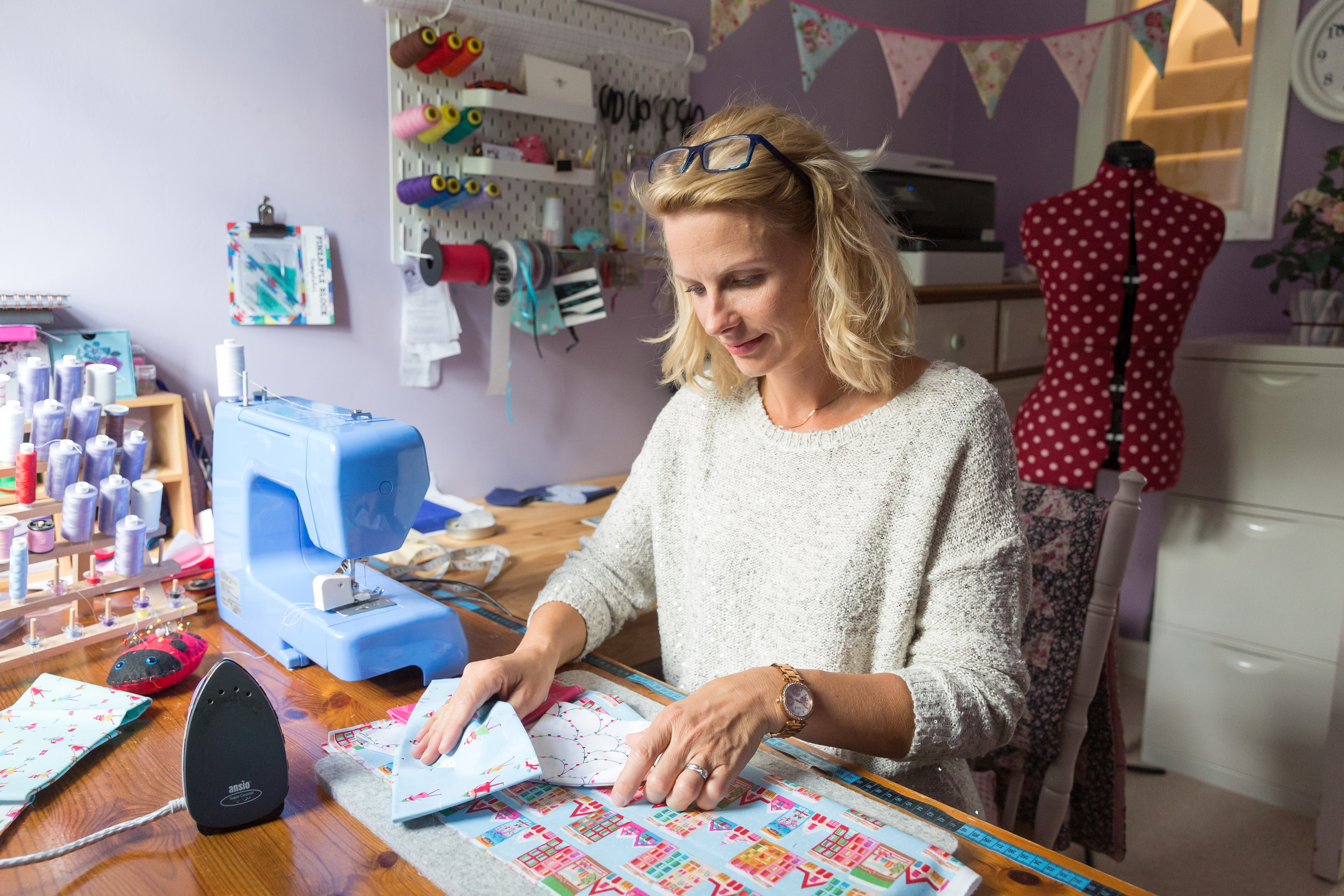 Hello, 
Thank you for visiting SarahLovesToSew! I'm Sarah and set up this brand to help people find their sew-jo!
I want to inspire people to make beautiful things out of an age-old craft and to share my skills with
like-minded people in a safe and supportive environment.
My desire is to bring creative people together through sewing. I always had the dream of running my own creative business, where I can be free to design and create and be my own boss, with flexible working hours around the family, and so when I was made redundant from a 21-year-career as a newspaper production journalist - I seized the opportunity to start doing something about it.
I learnt to sew as a child, then went on to study textiles, and later design and dressmaking and got back into sewing a few years ago. I started out creating the odd dress for myself and then making them for paying customers and taking on patchwork quilt commissions. I juggled my sewing commissions with being a mum-of-two and my freelance work as a TV and film actress.
But when covid hit, all the filming work stopped and I had more time to sew, and so I made lots of fabric face masks and set up an Etsy shop. I invested the money I earnt into courses with creatrix coach Ali Mapletoft, and after a lot of hard work, soul searching and mindset work - I decided that I would create my Beginner Sewing Boxes subscription service - the combination of online tutorials, step-by-step photo instruction cards and a box of delights to make a beautiful project every month.
I looked at why a lot of creative people who own machines do not sew, I sent out questionaires to online sewing groups and discovered that a lot of people just don't have the time to sew. They lacked the experience, knowledge and confidence. There are so many variables when it comes to sewing, you have to decide what fabric would work best with your chosen pattern, after you have decided on your pattern first, of course, then you need to decide on the colours and print, do you go with the floral or the stripes, the big floral or the ditsy flowers? You get my point, it takes time to research all these things, especially at the beginning.
So what can start out as a really fun activity can end with metres of gorgeous fabric bought, but not used, just left in a drawer somewhere for a rainy day that never comes. Sound familiar? If you are still with me, then Beginner Sewing Boxes were designed for you!
I curate the boxes myself, designing the pattern, choosing the suitable fabrics, threads, haberdashery and record and edit the video tutorials and create the step-by-step instruction cards to make it as quick and as easy as possible for my members. The boxes are beautifully wrapped in eco-packaging and are posted on the 27th of the month.
I really want my members to suceed with their makes. I host a monthly Zoom call for members who wish to join. They can meet other members, ask questions, get inspiration, motivation and talk sewing! 
I think it is so important that people take time out to do a mindful activity and sewing is certainly that. It can really help with mental health, especially as people are more isolated than usual due to Covid-19. I want to inspire people to be able to make beautiful things for themselves, their homes and their loved ones. The feeling of satisfaction from finishing a sewing project is amazing and I want to spread that joy with sewing projects, online tutorials, sew-alongs and workshops. 
Once you have mastered a technique, you can apply it to different projects. I love recycling old garments and turning them into new gorgeous items. Join my Facebook group www.facebook.com/groups/sewingconfidencecommunity or follow me on Instagram at www.instagram.com/sarahlovestosewshop for more of my makes and sewing tips.
I will never run out of things that I want to make fabrics that I want to work with, and I hope that you are inspired by my story and will also learn how to love sewing, appreciate the work that goes into it, and what it can provide for you.
I'd love it if you joined me on my sewing journey and subscribed to Beginner Sewing Boxes. Together we can do this!